Join us for Manny's Super Civic Cyber Conversations with lawyer Cody S. Harris on abridged constitutional law 101.
**Note: This conversation will be hosted digitally, not in the real live world.**
Click HERE for conversation.
Mr. Harris is a Partner at Keker, Van Nest & Peters, a litigation boutique in San Francisco. He also teaches Constitutional Law through Stanford's Continuing Studies Program. He will take you on a whirlwind overview of the U.S. Constitution – how its structured, how its interpreted, and where some of the biggest controversies lie. This talk is for non-lawyers, so don't be afraid. Come get acquainted with our nation's charter, so you understand what's at stake in these extraordinary times.
About Cody S. Harris:
Whether quietly resolving a high-stakes criminal investigation or defeating a multi-million dollar damages claim in the pre-trial stage, Cody Harris' tenacious case strategies, compelling briefs, and talent for persuasion safeguards his client's bottom line, reputation and even their freedom.
In addition to handling the white collar, securities, appellate and business litigation detailed below, Mr. Harris also developed a first-hand understanding of a prosecutor's mindset by spending a year trying and resolving cases at the Santa Clara District Attorney's Office. As a result, he can better anticipate his opposing side's motivations, use of evidence, objections and other tactics. Moreover, as a constitutional law instructor for the Stanford Continuing Studies Program, Cody routinely explains complicated legal concepts to laymen, a significant advantage when presenting a complex case to a jury.
Prior to attending law school, Mr. Harris worked with business clients across a variety of industries as a management consultant, before serving as a communications director for a senior member of Congress.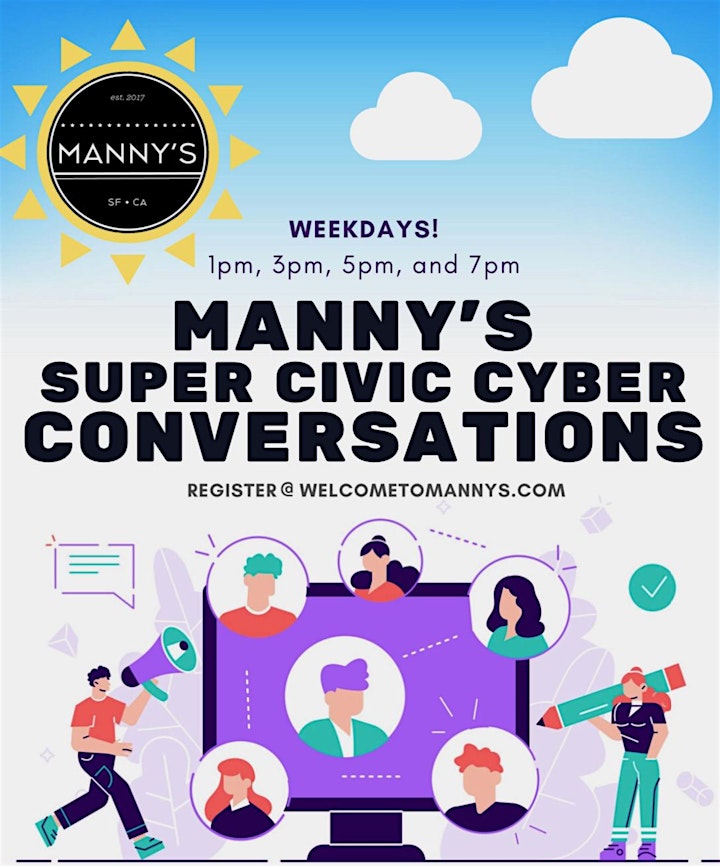 About Manny's Super Civic Cyber Conversations:

San Francisco and the surrounding 5 counties are in the midst of mandated shelter-in-place. All businesses except those deemed essential are closed and many Bay Area residents and scared, nervous, and wondering about the future.

Manny's, a civic gathering and events space located in the heart of San Francisco, is rising to the occasion to create and promote a month's worth of live civic conversations to distribute needed information, give people the hope, and continue to civically engage the public in a time of need.

About Manny's:

Manny's was opened on election night 2018 to create a physical place for people to go to become better informed and more involved citizens. Since opening we've hosted 17 of the Presidential candidates, over 550 civic events, talks, and gatherings, over 40 members of Congress including Speaker Nancy Pelosi, and leaders across different social justice movements like Alicia Garza, Jose Antonio Vargas, Michael Brune, Cleve Jones, and Gabby Giffords.

Venue Information:
Manny's
3092 16th Street
San Francisco, CA, 94103