Join us for Manny's Super Civic Cyber Conversations with President of BART board Lateefah Simon to discuss BART in times of crisis.
**Note: This conversation will be hosted digitally, not in the real live world.**
Click HERE to tune in to the conversation.
How does BART work? What are all the various pieces?
How about how BART is taking bold new paths to ensure security without compromising justice? How will shelter-in-place affect BART operations? How is BART tackling this crisis?
Joins us for a cyber conversation on with President of the BART Board, Lateefah Simon, who reps the East Bay, as well as San Francisco's two BART reps Bevan Dufty and Janice Li.
More about Lateefah Simon:
Lateefah Simon was elected to serve District 7 on the BART Board of Directors on November 8, 2016. She was voted President of the Board for 2020.
A nationally recognized advocate for civil rights and racial justice, Lateefah brings over 20 years of executive experience advancing opportunities for communities of color and low-income communities in the Bay Area. Raised in the Fillmore District of San Francisco, Lateefah began organizing at age 15 for the Center for Young Women's Development. At 19-years-old she was appointed Executive Director of CYWD, where she served 11 years and brought the organization to national acclaim. At 26, her work earned her the distinction of the youngest woman ever to receive a MacArthur "Genius" Fellowship. She went on to lead the creation of San Francisco's first reentry services division under the leadership of then District Attorney Kamala D. Harris. Lateefah later served as Executive Director of the Lawyer's Committee for Civil Rights and Program Director at the Rosenberg Foundation.
More about Bevan Dufty:
Bevan Dufty was elected to the BART Board of Directors in November 2016. Director Dufty represents the 9th District, which includes portions of San Francisco. Director Dufty served as President of the Board in 2019. Bevan's 40-year public service career began in 1976 when he joined the staff of legendary Brooklyn Congresswoman Shirley Chisholm (D-NY), the first African American woman elected to Congress and 1972 Presidential candidate.
Bevan then became Chief Legislative Assistant to freshman Rep. Julian Dixon (D-CA) in 1979. Dixon served on the House Appropriations Committee and led the effort to fund the Metro Red Line, returning rail transit to Los Angeles.
Over the next eight years, Bevan coordinated the Southern California delegation's efforts to appropriate Metro Rail funding and then served from 1989-1993 leading all federal affairs for the LA Metro agencies.
In 1993, Bevan returned to the Bay Area (he graduated from Menlo-Atherton H.S. and UC Berkeley) and helped his friend, Susan Leal, win appointment to the San Francisco Board of Supervisors. This began a 23-year City Hall career, including Legislative Aide to Supervisor Leal, Director of Neighborhood Services for Mayor Willie Brown, and his election to the Board of Supervisors for two terms (2002-2011) representing District 8.
From 2012-2015, Bevan served as Director of HOPE for the City and Mayor Lee, to innovate the City's response to homelessness and he established the new Navigation Center model and helped lead the effort that has housed over 500 formerly homeless veterans in San Francisco.
More about Janice Li:
Janice Li was elected to the BART Board of Directors in November 2018. Director Li represents the 8th District, which includes portions of San Francisco.
Janice was born in Hong Kong and moved to the U.S. at a young age. Prior to moving to San Francisco, she worked for People United for Sustainable Housing, a community-based organization in Buffalo, New York that intertwines grassroots, direct action organizing with affordable housing development. Through PUSH, Janice founded a community center on the west side of Buffalo in 2009, which still thrives today, predominantly serving low-income teens of color and refugees.
In 2013, Janice moved to San Francisco where she began working as a community organizer with the SF Bicycle Coalition, membership-based nonprofit with the mission of promoting the bicycle for everyday transportation. Currently, she serves as the advocacy director where she leads campaigns, policy and legislative work, and the organization's political endorsements process.
Janice lives in the Outer Sunset and is a regular bicycle commuter and transit rider.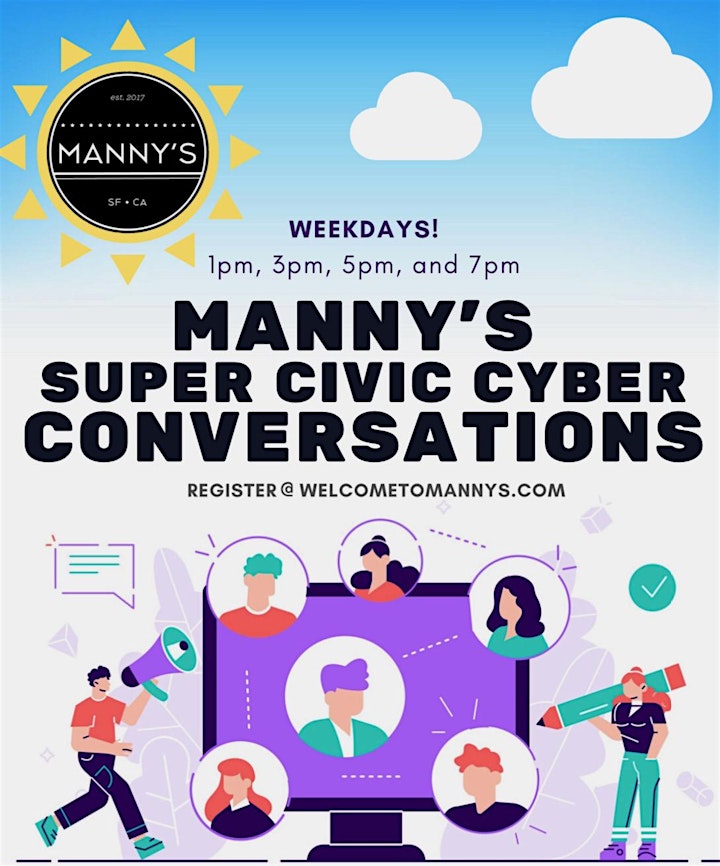 About Manny's Super Civic Cyber Conversations :

San Francisco and the surrounding 5 counties are in the midst of mandated shelter-in-place. All businesses except those deemed essential are closed and many Bay Area residents and scared, nervous, and wondering about the future.

Manny's , a civic gathering and events space located in the heart of San Francisco, is rising to the occasion to create and promote a month's worth of live civic conversations to distribute needed information, give people the hope, and continue to civically engage the public in a time of need.

About Manny's:

Manny's was opened on election night 2018 to create a physical place for people to go to become better informed and more involved citizens. Since opening we've hosted 17 of the Presidential candidates, over 550 civic events, talks, and gatherings, over 40 members of Congress including Speaker Nancy Pelosi, and leaders across different social justice movements like Alicia Garza, Jose Antonio Vargas, Michael Brune, Cleve Jones, and Gabby Giffords.

Venue Information:
Manny's
3092 16th Street
San Francisco, CA, 94103