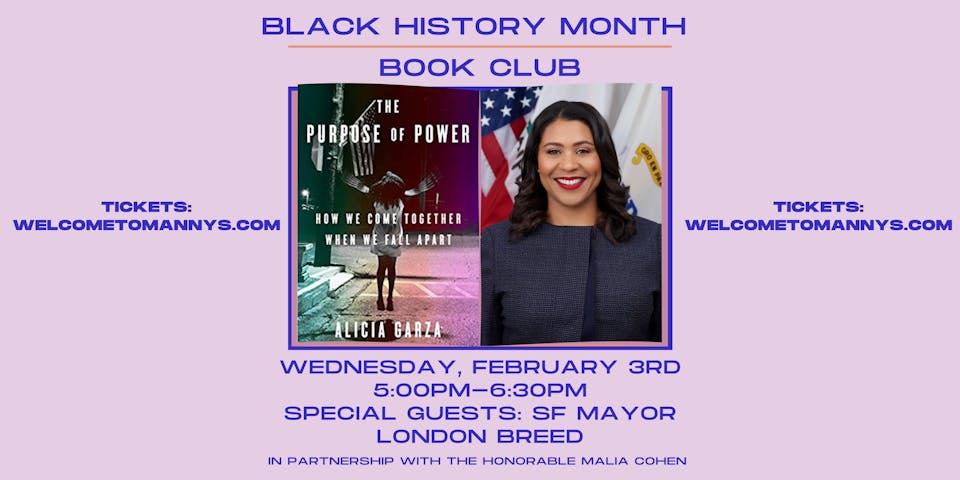 Black History Month: Book Club w/ Mayor London Breed: The Purpose of Power
Alicia Garza's The Purpose of Power is OUT and in need of being discussed.
To kick off this special book club in honor of Black History Month, San Francisco Mayor London Breed joins us to discuss the first part of the book.
***Don't worry - you can still join even if you have not read the book - the discussion will apply to everyone***
About the Book Club:
At each book club meeting, we'll be joined by black leaders who are at the forefront of our country's civil rights movement. We will take time with our guests to dissect the assigned reading while also taking audience questions for our special guests.
At every meeting, you will also have a chance to speak within the book club with other viewers to better understand the text on a personal level while making personal connections around the country, via break out rooms.
The goal? Community, learning, and a healthy dose of inspiration in this year's important month of February.
About the Book:
In 2013, Alicia Garza wrote what she called "a love letter to Black people" on Facebook, in the aftermath of the acquittal of the man who murdered seventeen-year-old Trayvon Martin. Garza wrote:
Black people. I love you. I love us. Our lives matter.
With the speed and networking capacities of social media, #BlackLivesMatter became the hashtag heard 'round the world. But Garza knew even then that hashtags don't start movements—people do.
Long before #BlackLivesMatter became a rallying cry for this generation, Garza had spent the better part of two decades learning and unlearning some hard lessons about organizing. The lessons she offers are different from the "rules for radicals" that animated earlier generations of activists, and diverge from the charismatic, patriarchal model of the American civil rights movement. She reflects instead on how making room amongst the woke for those who are still awakening can inspire and activate more people to fight for the world we all deserve.
This is the story of one woman's lessons through years of bringing people together to create change. Most of all, it is a new paradigm for change for a new generation of changemakers, from the mind and heart behind one of the most important movements of our time.
About the Author:
Alicia Garza is an organizer, political strategist, and cheeseburger enthusiast. She is the principal at the Black Futures Lab and the Black to the Future Action Fund, co-creator of #BlackLivesMatter and the Black Lives Matter Global Network, director of strategy and partnerships at the National Domestic Workers Alliance, and host of the Lady Don't Take No
More about London Breed:
Mayor London Breed is a native San Franciscan, raised by her grandmother in Plaza East Public Housing in the Western Addition neighborhood. In June 2018, Mayor Breed was elected to be the first African American woman and second woman in San Francisco history to serve as Mayor. She was re-elected for her first full four-year term in November 2019.
She is leading San Francisco's ongoing response to COVID-19, with a focus on equity and supporting the City's economic recovery. Earlier this year, Mayor Breed announced her vision to fundamentally change the nature of policing in San Francisco and issued a set of policies to address structural inequities. Since becoming Mayor, she has focused on helping the City's homeless population to care and shelter; adding more housing for residents of all income levels; helping those suffering from mental health and substance use disorder on San Francisco's streets; ensuring that all San Franciscans have access to a thriving economy; making San Francisco a cleaner and safer city, and furthering San Francisco's leadership in combating climate change.
Prior to public service, Mayor Breed served as Executive Director of the African American Art & Culture Complex in the Western Addition for over a decade. She also served as a San Francisco Redevelopment Agency Commissioner and in 2010 was appointed by then-Mayor Gavin Newsom to be a San Francisco Fire Commissioner, where she served until her election to the Board of Supervisors.
Mayor Breed served for six years on the San Francisco Board of Supervisors, including three years as President of the Board. During her time on the Board, Mayor Breed passed legislation to create more housing along transit corridors and prioritize residents for affordable housing opportunities in their communities. She helped to reform the City's emergency response systems, secured funding for San Francisco's homelessness support network, and enacted the strongest Styrofoam ban in the country. She also worked to implement the Rental Assistance Demonstration (RAD) program to rehabilitate and preserve thousands of long-neglected units of permanently affordable housing.
In 2013, Mayor Breed was elected to the San Francisco Board of Supervisors, representing District 5 for six years, including three years as President of the Board.
Format:
Each book club meeting will begin with a 30-45 minute guided conversation with the special guest that touches on that section of the book followed by break out rooms of 3-4 people who will have questions to guide them/
Then there will be a 10-15 minute closing session to discuss what we learned and set up for next week.
The meetings will be on Zoom and there is a small registration fee that can be waved with no questions asked with need. Just email the word "grapefruit" to ram@welcometomannys.com
We have a supply of the book at Manny's (3092 16th Street) for free for anyone who needs it. Just email ram@welcometomannys.com to coordinate pick up.
Reading Timeline:
Wednesday, February 3rd:
Special Guest: Mayor London Breed
Book Portion: Part 1 – Part 4 (Pages 1-84)
Wednesday, February 10th:
Special Guest: Lateefah Simon
Book Portion: Part 5 – Part 9 (Pages 85-160)
Wednesday, February 17th:
Special Guest: Congresswoman Barbara Lee
Book Portion: Part 10 – Part 13 (Pages 161-212)
Thursday, February 25th:
Special Guest: Alicia Garza
Book Portion: Part 14 – Epilogue (Pages 213-291)
You can purchase the book using the following links:
Physical Book:
Audiobook:
E-Reader:
*If the cost is at all a hurdle please just email ram@welcometomannys.com with the word "Grapefruit" and he will send you a free ticket no questions asked!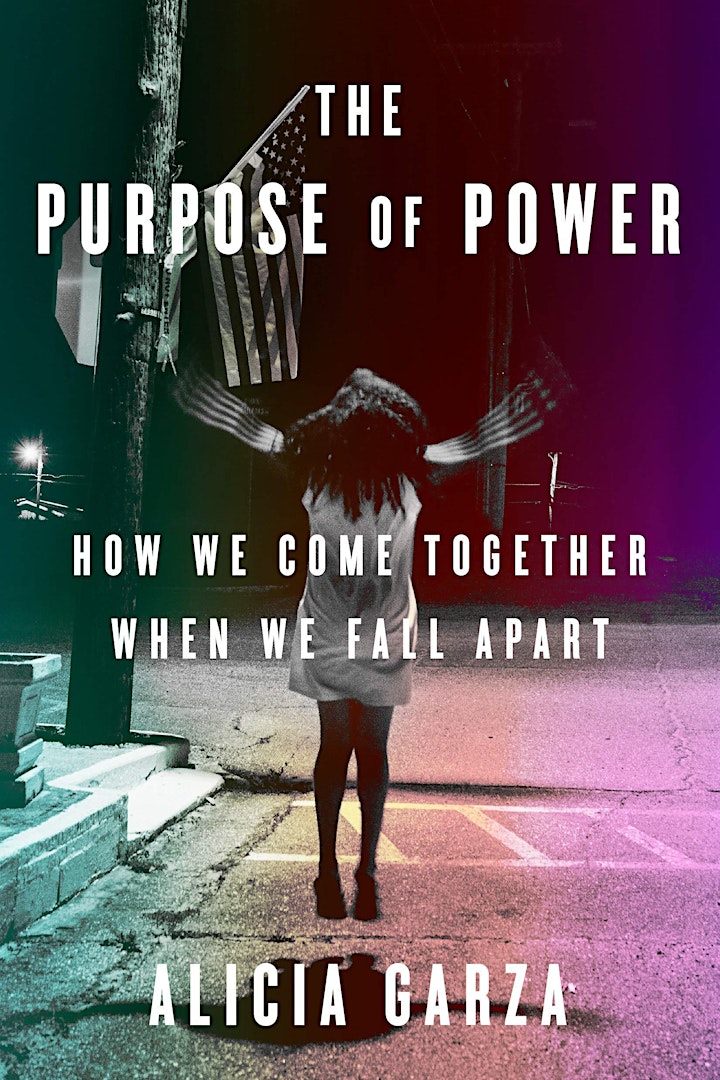 Venue Information: