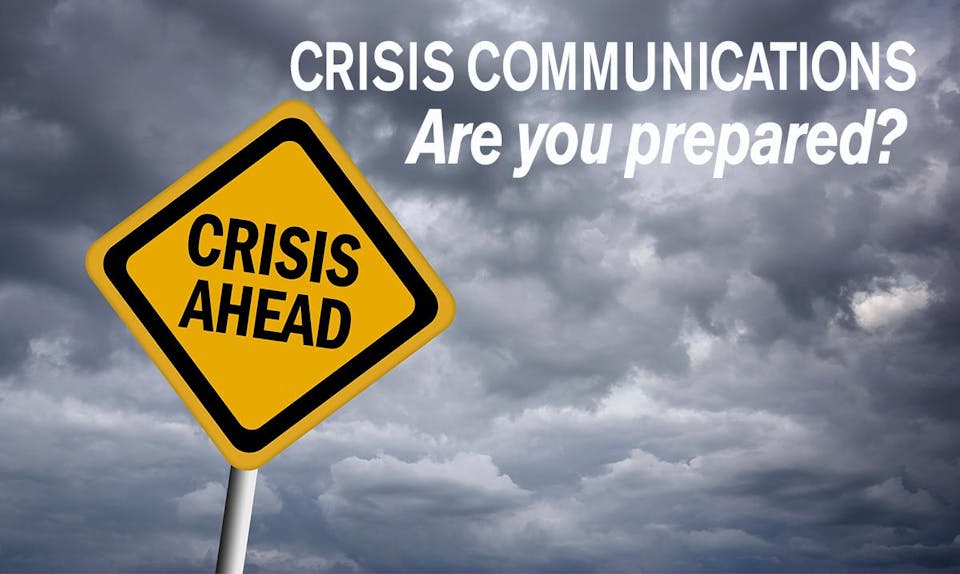 Clear Communications in Time of Crisis for Small Business & Others
A conversation with public relations expert David Perry on the best ways to communicate internally and externally in a time of crisis.
**Note: This conversation will be hosted digitally, not in the real live world.**
Click HERE to tune in to the conversation.
We are living in extreme times. How should we most effectively communicate our messages to the world - as small business owners or really anyone? An in-depth q&a with PR and Communications expert David Perry.
About David Perry:
His specialities include community and government affairs, social media, public/media relations and crisis communications
Projects of which David is especially proud include: San Francisco's Official 30th Anniversary SF / Shanghai Sister City Delegation to the Shanghai Expo led by Lt. Governor / then San Francisco Mayor Gavin Newsom and former Mayors Frank Jordan and Willie L. Brown, Jr. (June 2010); ChinaSF Delegation to Beijing, Nanjing, Hangzhou, Shanghai (Oct. 2010); San Francisco Fleet Week 2010; (October 2010); the "Escape to the City Campaign" for the San Francisco Convention & Visitors Bureau (spring 2009); the Loma Prieta Earthquake 20th Anniversary emergency preparedness campaign (October 2009); public relations/media for the Beijing Olympic Torch Relay in San Francisco (April 2008). In 2006, Perry accepted an"Exceptional Business Award" from the San Francisco Business Arts Councils.
David is a member of the board of directors and executive committee of the San Francisco Chamber of Commerce, serving as it small business chair. He is also a member of the San Francisco Hotel Council, co-founder / immediate past president of the nonprofit Rainbow Honor Walk and host / creator of "10 Percent" — the longest running LGBT show in California history (2009 – 2018)
As a journalist, David has written over one hundred articles, and contributed to several national publications. He has represented clients in the United States, Canada, China and Europe. Originally from Richmond, Virginia, David began his career with the National Endowment for the Arts, followed by stints as Communications Director for San Francisco's Yerba Buena Center for the Arts, Media Manager for the San Francisco Partnership, a public/private venture of the San Francisco Mayor's Office and San Francisco Chamber of Commerce and edited the national nonprofit magazine Opportunity Knocks. David is a frequent lecturer on the ethics of public relations and how technology is changing and expanding traditional communications. David travels extensively, including several trips to China each year, and has visited more than 60 countries on six continents. He has lived in San Francisco since 1987. In his spare time, David is an avid maritime historian and lectures about the great age of ocean liners aboard ship whenever possible.
About Manny's Super Civic Cyber Conversations:
San Francisco and the surrounding 5 counties are in the midst of mandated shelter-in-place. All businesses except those deemed essential are closed and many Bay Area residents and scared, nervous, and wondering about the future.
Manny's, a civic gathering and events space located in the heart of San Francisco, is rising to the occasion to create and promote a month's worth of live civic conversations to distribute needed information, give people the hope, and continue to civically engage the public in a time of need.
About Manny's:
Manny's was opened on election night 2018 to create a physical place for people to go to become better informed and more involved citizens. Since opening we've hosted 17 of the Presidential candidates, over 550 civic events, talks, and gatherings, over 40 members of Congress including Speaker Nancy Pelosi, and leaders across different social justice movements like Alicia Garza, Jose Antonio Vargas, Michael Brune, Cleve Jones, and Gabby Giffords.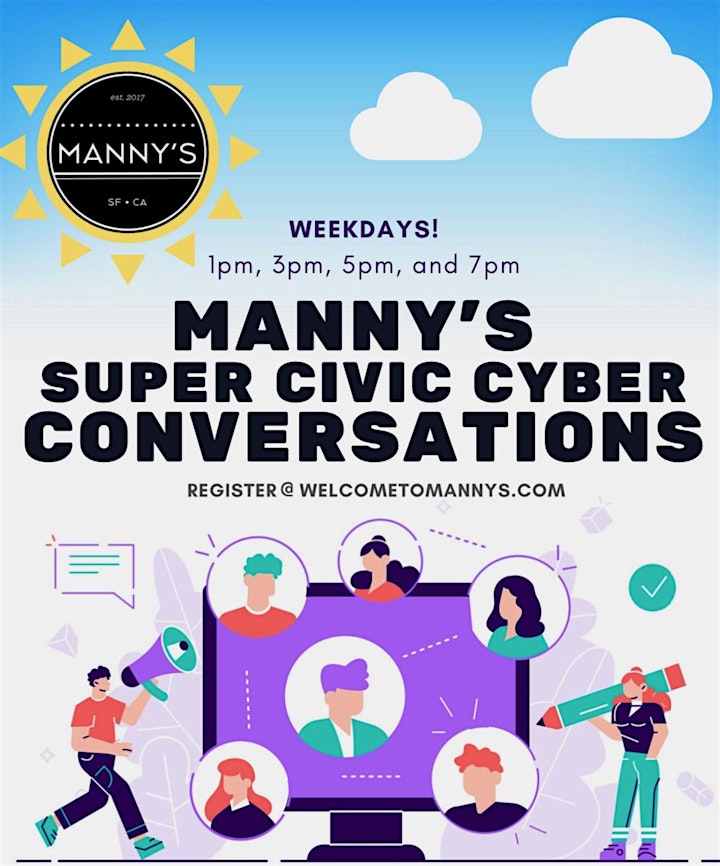 Venue Information:
Manny's
3092 16th Street
San Francisco, CA, 94103