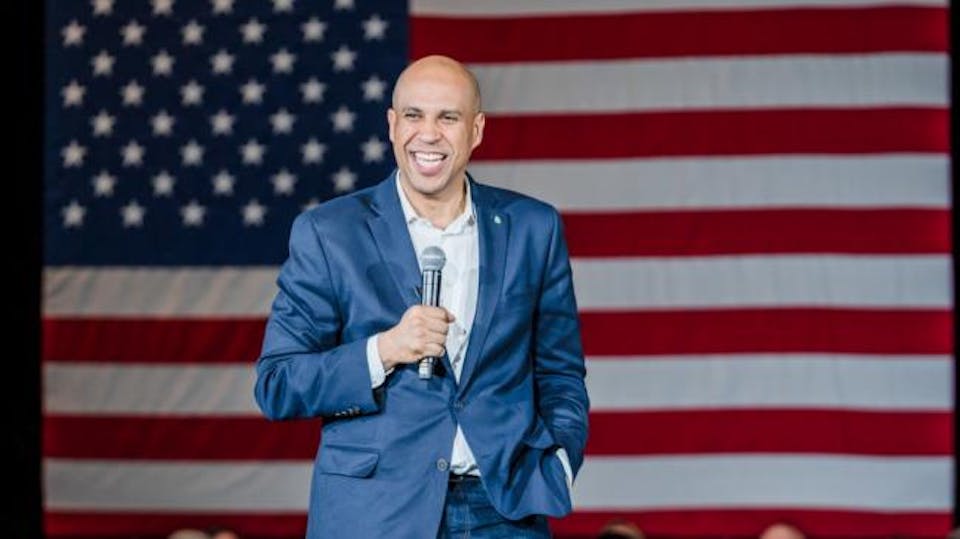 Conversation with Senator Cory Booker: Leading America Through This Time
$0.00 - $10.00
Sales Ended
Join us for Manny's Super Civic Cyber Conversations! #MSCCC
**Note: This conversation will be hosted digitally, not in the real live world.**
Click HERE to tune in to the conversation.
Now more than ever, we need the unwavering leadership of our elected officials. Leading with resilience and tenacity is very needed right now, and we depend on our leaders to guide us through uncertain times like these.
Join us for a cyber conversation with Senator Cory Booker on what it is like to lead America through a global pandemic, what the future will look like for the country, as well as what's happening in his home state of New Jersey.
More about Cory Booker:
Cory Booker believes that the American dream isn't real for anyone unless it's within reach of everyone. Cory has dedicated his life to fighting for those who have been left out, left behind, or left without a voice.
Cory moved to Newark after law school and started a nonprofit organization to provide legal services for low-income families, helping tenants take on slumlords. In 1998, Cory moved into "Brick Towers" in Newark, which eventually became a housing project. Cory lived there until the housing project was demolished in 2006.
Cory still lives in Newark's Central Ward today, where he sees first-hand many of the challenges he's working to solve in Congress, such as lack of access to affordable health care, environmental injustice, food insecurity, and our broken criminal justice system.
Cory served as Newark mayor from 2006 until 2013. During his tenure, the city experienced economic growth on a scale not seen since the 1960s. In addition, under Cory's leadership, overall crime declined, affordable housing and green spaces massively expanded, city services were made more efficient, and educational opportunities increased.
In October 2013, Cory won a special election to represent New Jersey in the United States Senate. In November 2014, he was re-elected to a full six-year term.
As New Jersey's junior Senator, Cory Booker has brought an innovative and consensus-building approach to tackling some of the most difficult problems facing New Jersey and our country. He has emerged as a national leader in the effort to fix our broken criminal justice system and end mass incarceration, helping craft the most sweeping set of criminal justice reforms in a generation, the First Step Act, which became law in December 2018. He has also advocated for economic policy that expands opportunity, increases wages, limits corporate concentration, and cracks down on corporate practices like outsourcing, stock buybacks, and no-poach agreements that firms use to keep wages down. And he has been a leader in the Senate in the fight to protect the Affordable Care Act, while also championing proposals to build upon the law, increase access to care, and lower costs.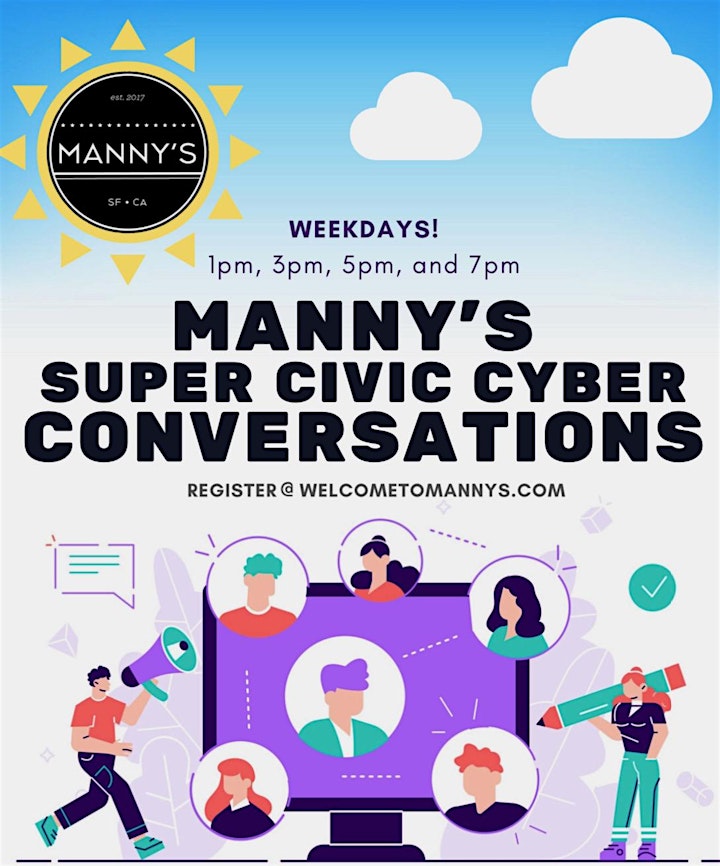 About Manny's Super Civic Cyber Conversation:

San Francisco and the surrounding 5 counties are in the midst of mandated shelter-in-place. All businesses except those deemed essential are closed and many Bay Area residents and scared, nervous, and wondering about the future.

Manny's, a civic gathering and events space located in the heart of San Francisco, is rising to the occasion to create and promote a month's worth of live civic conversations to distribute needed information, give people the hope, and continue to civically engage the public in a time of need.

About Manny's:

Manny's was opened on election night 2018 to create a physical place for people to go to become better informed and more involved citizens. Since opening we've hosted 17 of the Presidential candidates, over 550 civic events, talks, and gatherings, over 40 members of Congress including Speaker Nancy Pelosi, and leaders across different social justice movements like Alicia Garza, Jose Antonio Vargas, Michael Brune, Cleve Jones, and Gabby Giffords.

Venue Information:
Manny's
3092 16th Street
San Francisco, CA, 94103