Join us for Manny's Super Civic Cyber Conversations with Michelle Obama's former speechwriter Rebecca Hurwitz.
**Note: This conversation will be hosted digitally, not in the real live world.**
Click HERE to tune in to the conversation.
After serving for eight years in the White House, including as First Lady Michelle Obama's head speechwriter, Sarah Hurwitz decided to write a book -- about Judaism...and no one is more surprised than she is. In this conversation, Hurwitz will offer a behind-the-scenes look at what it was like to write speeches for a beloved global icon in the White House, and she'll talk about how she found surprisingly modern wisdom, meaning, and spirituality in her ancient religious tradition.
More about Sarah:
From 2009 to 2017, Sarah Hur­witz served as a White House speech­writer, first for Pres­i­dent Barack Oba­ma and then as the chief speech­writer for First Lady Michelle Oba­ma. Hur­witz worked with Mrs. Oba­ma to craft a num­ber of wide­ly acclaimed address­es, includ­ing her 2012 and 2016 Demo­c­ra­t­ic Nation­al Con­ven­tion speech­es and her polit­i­cal speech­es dur­ing the 2016 cam­paign cycle. She also worked on pol­i­cy issues affect­ing young women and girls as a senior advi­sor to the White House Coun­cil on Women and Girls.
Dur­ing the 2008 pres­i­den­tial pri­ma­ry, Hur­witz was the chief speech­writer for Sen­a­tor Hillary Clin­ton from ear­ly 2007 until her con­ces­sion in June of 2008. Pri­or to work­ing on the Clin­ton and Oba­ma cam­paigns, she was was a speech­writer for Sen­a­tor Tom Harkin, Gen­er­al Wes­ley Clark, Sen­a­tor John Ker­ry, and was a lawyer at the Wash­ing­ton, D.C., office of Wilmer­Hale. Hur­witz is a grad­u­ate of Har­vard Col­lege and Har­vard Law School, and is cur­rent­ly a fel­low at the Insti­tute of Pol­i­tics at Har­vard Kennedy School.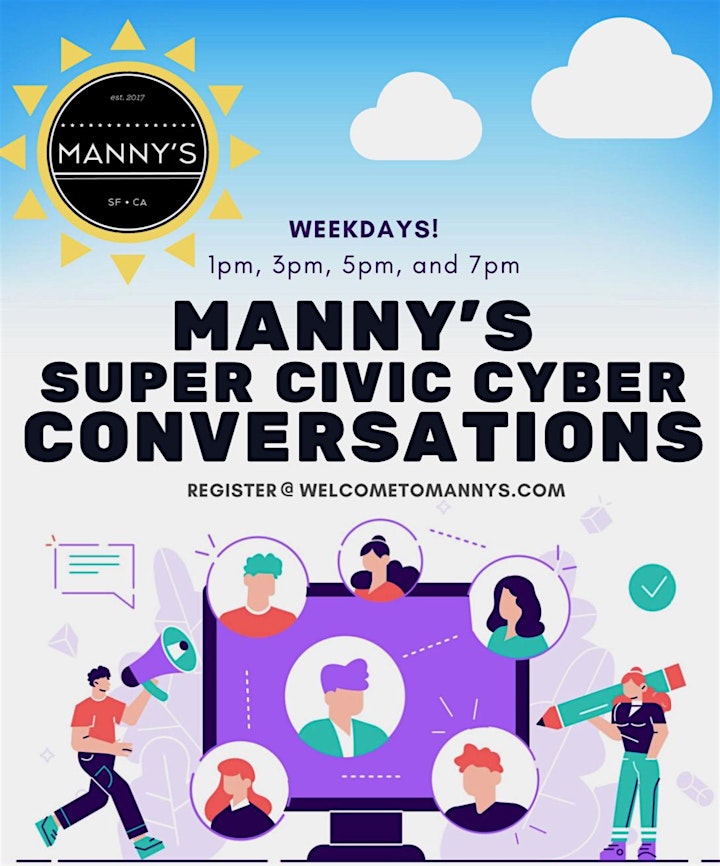 About Manny's Super Civic Cyber Conversations:

San Francisco and the surrounding 5 counties are in the midst of mandated shelter-in-place. All businesses except those deemed essential are closed and many Bay Area residents and scared, nervous, and wondering about the future.

Manny's, a civic gathering and events space located in the heart of San Francisco, is rising to the occasion to create and promote a month's worth of live civic conversations to distribute needed information, give people the hope, and continue to civically engage the public in a time of need.

About Manny's:

Manny's was opened on election night 2018 to create a physical place for people to go to become better informed and more involved citizens. Since opening we've hosted 17 of the Presidential candidates, over 550 civic events, talks, and gatherings, over 40 members of Congress including Speaker Nancy Pelosi, and leaders across different social justice movements like Alicia Garza, Jose Antonio Vargas, Michael Brune, Cleve Jones, and Gabby Giffords.

Venue Information:
Manny's
3092 16th Street
San Francisco, CA, 94103