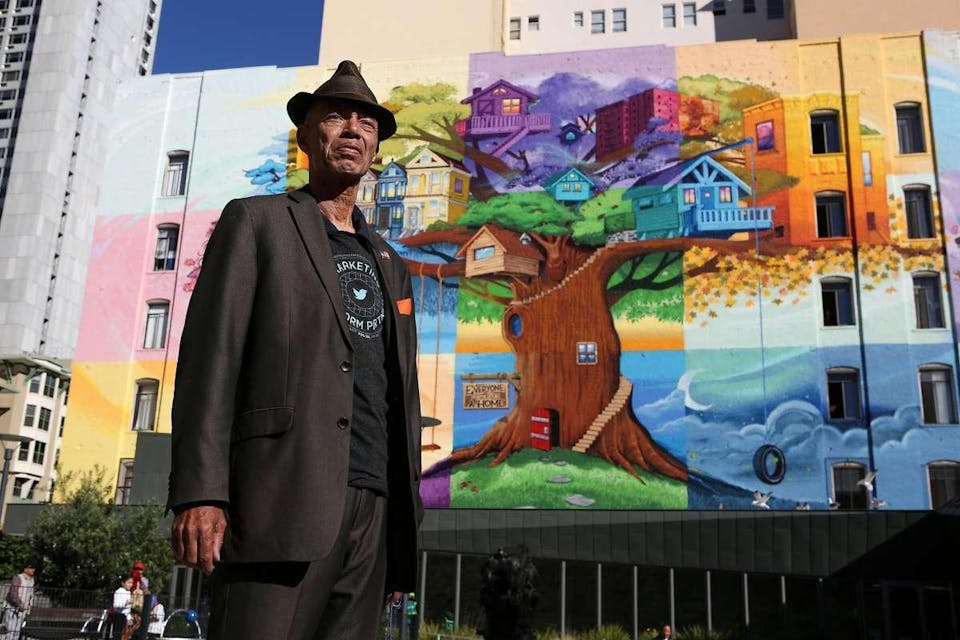 Join us for Manny's Super Civic Cyber Conversations with "Mayor" Del Seymour on how the virus is affecting the Tenderloin.
**Note: This conversation will be hosted digitally, not in the real live world.**
Click HERE to tune in to the conversation.
The Tenderloin District in San Francisco has been a hub for culture and art. The Tenderloin serves as a mecca for the art scene in San Francisco, housing the "White Walls" gallery and "Shooting Gallery".
The Tenderloin has been home to mural work by artists such as Johanna Poethig, Mona Caron, Banksy, Shepard Fairey, Barry McGee, Mike Giant, Blek Le Rat and Dan Plasma.
Join us for a virtual conversation with Del Seymour on how the virus is affecting the Tenderloin.
More about Del Seymour:
Del Seymour founded Code Tenderloin in 2015. The nonprofit has provided free job training classes to more than 1,000 homeless, formerly incarcerated, and others who are at-risk. They learn basic coding and job readiness skills such as interviewing and resume writing, and graduate from the program when they're done.
Nearly nine in ten Code Tenderloin participants get jobs or go to college. The group partners with firms like Uber, LinkedIn, Microsoft and Twitter which offer grants, classroom space, volunteers, and in some cases, paid internships.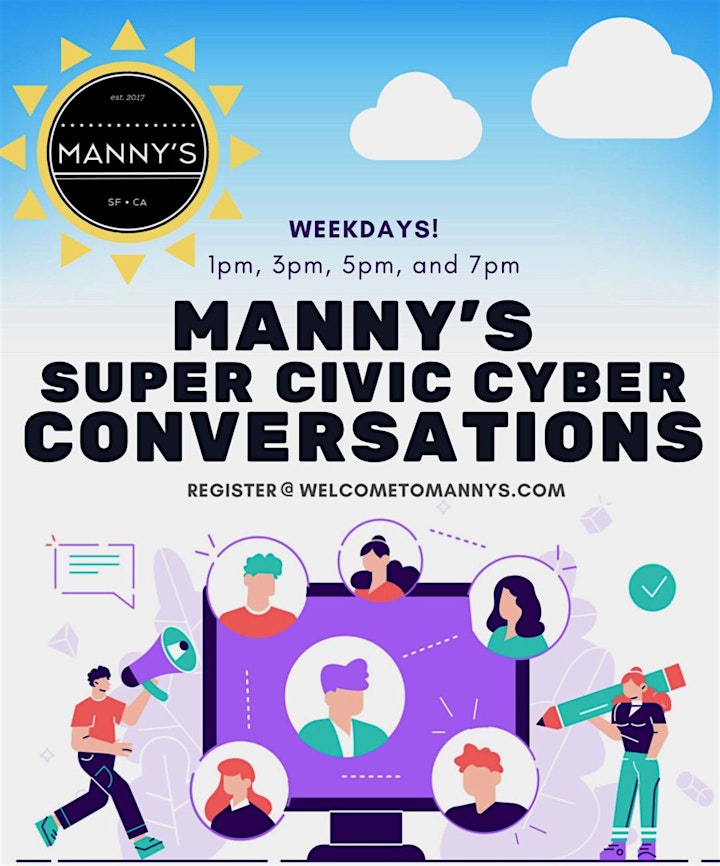 About Manny's Super Civic Cyber Conversations:

San Francisco and the surrounding 5 counties are in the midst of mandated shelter-in-place. All businesses except those deemed essential are closed and many Bay Area residents and scared, nervous, and wondering about the future.

Manny's, a civic gathering and events space located in the heart of San Francisco, is rising to the occasion to create and promote a month's worth of live civic conversations to distribute needed information, give people the hope, and continue to civically engage the public in a time of need.

About Manny's:

Manny's was opened on election night 2018 to create a physical place for people to go to become better informed and more involved citizens. Since opening we've hosted 17 of the Presidential candidates, over 550 civic events, talks, and gatherings, over 40 members of Congress including Speaker Nancy Pelosi, and leaders across different social justice movements like Alicia Garza, Jose Antonio Vargas, Michael Brune, Cleve Jones, and Gabby Giffords.

Venue Information:
Manny's
3092 16th Street

San Francisco, CA, 94103