Join us for Manny's Super Civic Cyber Conversations with CEO of Tech Equity Catherine Bracy on how to activate the tech community right now.
**Note: This conversation will be hosted digitally, not in the real live world.**
Click HERE to tune in to the conversation.
How is the tech community mobilizing during this time of crisis? How can tech stand in solidarity with the rest of the world right now?
Join us for a cyber conversation with tech leader and CEO of Tech Equity Catherine Bracy on how the tech community can mobilize during this national emergency.
About Catherine Bracy:
Catherine Bracy is the Co-Founder and Executive Director of the TechEquity Collaborative. Before founding TEC, she was Code for America's Senior Director of Partnerships and Ecosystem where she grew Code for America's Brigade program into a network of over 50,000 civic tech volunteers in 80+ cities across the US. During her tenure, Code for America's Brigade was responsible for 64% of the total growth in the civic tech community in the country. She also founded Code for All, the global network of Code-­for organizations with partners on six continents.
During the 2012 election cycle she was Director of Obama for America's Technology Field Office in San Francisco, the first of its kind in American political history. She was responsible for organizing technologists to volunteer their skills for the campaign's technology and digital efforts. Prior to joining the Obama campaign, she ran the Knight Foundation's 2011 News Challenge and before that was the Administrative Director at Harvard's Berkman Center for Internet & Society. She is on the board of directors at the Public Laboratory and the Data & Society Research Institute.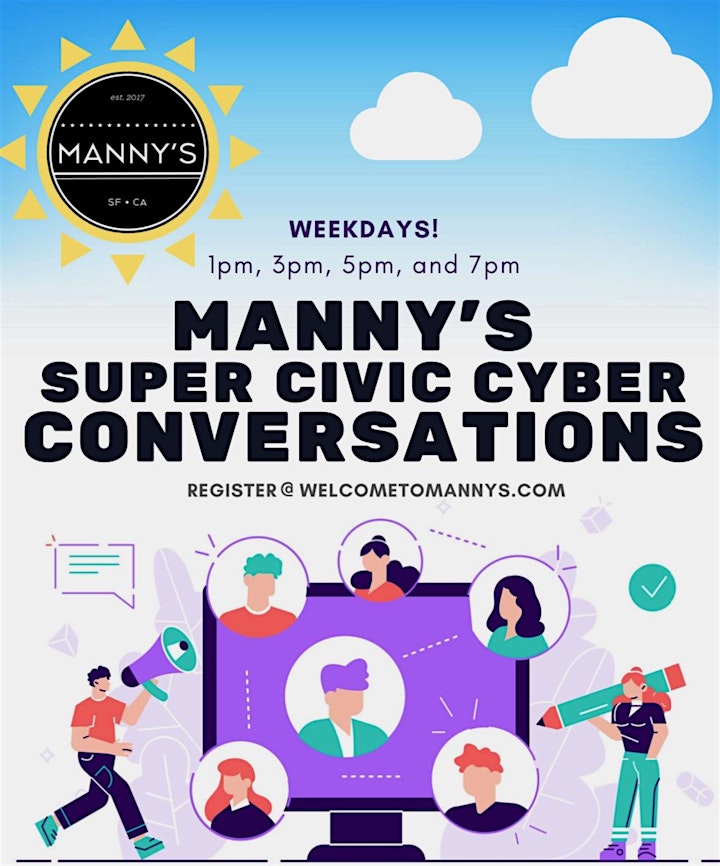 About Manny's Super Civic Cyber Conversations:

San Francisco and the surrounding 5 counties are in the midst of mandated shelter-in-place. All businesses except those deemed essential are closed and many Bay Area residents and scared, nervous, and wondering about the future.

Manny's, a civic gathering and events space located in the heart of San Francisco, is rising to the occasion to create and promote a month's worth of live civic conversations to distribute needed information, give people the hope, and continue to civically engage the public in a time of need.

About Manny's:

Manny's was opened on election night 2018 to create a physical place for people to go to become better informed and more involved citizens. Since opening we've hosted 17 of the Presidential candidates, over 550 civic events, talks, and gatherings, over 40 members of Congress including Speaker Nancy Pelosi, and leaders across different social justice movements like Alicia Garza, Jose Antonio Vargas, Michael Brune, Cleve Jones, and Gabby Giffords.

Venue Information:
Manny's
3092 16th Street
San Francisco, CA, 94103