How to support '20 women candidates during shelter-in-place w/ Stacy Mason
Join us for Manny's Super Civic Cyber Conversations with Stacy Mason on why is it so hard for Americans to elect women?
**Note: This conversation will be hosted digitally, not in the real live world.**
Click HERE to tune in to the conversation.
The year is 2020 and the U.S. is still struggling to elect more women into power.
How can we continue to support women candidates even with the order to stay in our homes? The fight continues!
Join us for a virtual conversation with Stacy Mason who will give is more insight on the difficulties of electing more women in the U.S.
More about Stacy Mason:
Stacy is a co-founder of WomenCount and has served as executive director since 2008. During the last four election cycles she has devoted herself to increasing women's political participation. In addition to focusing on the launch of WomenCount's new crowdfunding platform she is also a co-founder of Electing Women San Francisco, a giving circle that is part of a new national network.
Previously, she worked in political journalism, serving as editor-in-chief of Roll Call, the newspaper that covers the U.S. Congress; associate publisher of The Federal Paper, a newspaper focusing on the White House and politics; and development director at The Economist.
She holds a bachelor's in international relations from Tufts University and a master's in journalism from Northwestern University. Stacy is married with three children and lives in Palo Alto. When she moved to California from DC more than ten years ago she swore off of politics forever and planned to reinvent herself as a yoga teacher in her new life on the west coast.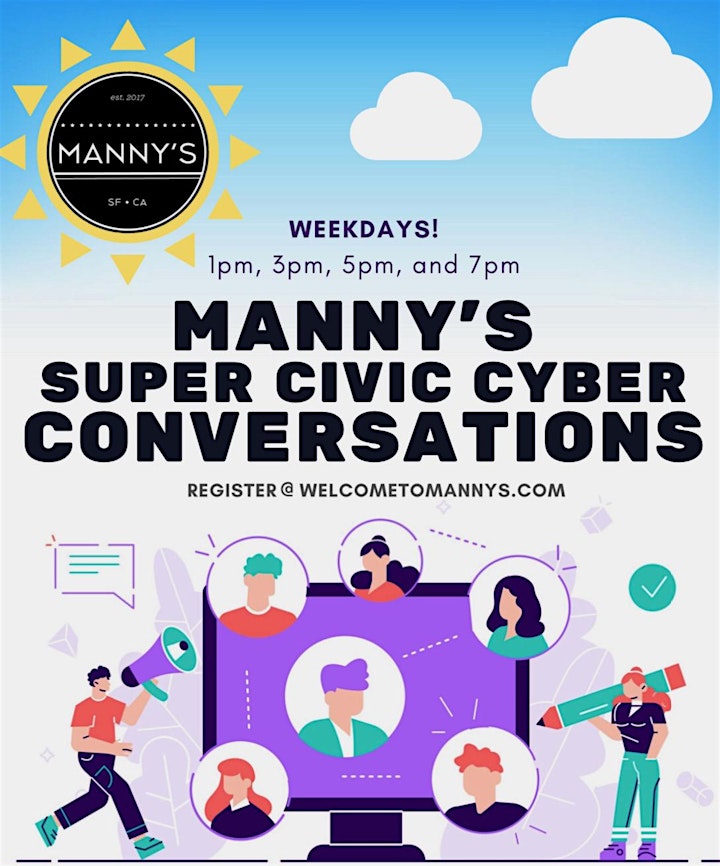 About Manny's Super Civic Cyber Conversations:

San Francisco and the surrounding 5 counties are in the midst of mandated shelter-in-place. All businesses except those deemed essential are closed and many Bay Area residents and scared, nervous, and wondering about the future.

Manny's, a civic gathering and events space located in the heart of San Francisco, is rising to the occasion to create and promote a month's worth of live civic conversations to distribute needed information, give people the hope, and continue to civically engage the public in a time of need.

About Manny's:

Manny's was opened on election night 2018 to create a physical place for people to go to become better informed and more involved citizens. Since opening we've hosted 17 of the Presidential candidates, over 550 civic events, talks, and gatherings, over 40 members of Congress including Speaker Nancy Pelosi, and leaders across different social justice movements like Alicia Garza, Jose Antonio Vargas, Michael Brune, Cleve Jones, and Gabby Giffords.

Venue Information:
Manny's
3092 16th Street
San Francisco, CA, 94103