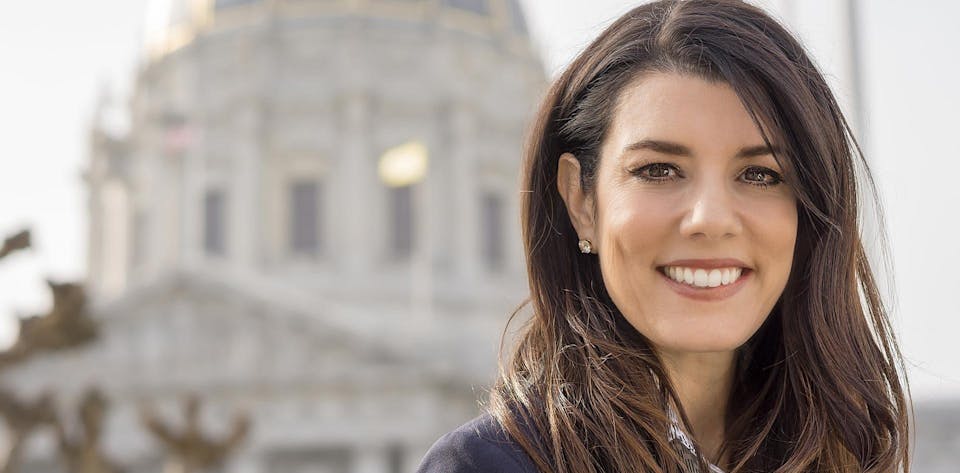 Join us for Manny's Super Civic Cyber Conversations with District 2 Supervisor Catherine Stefani.
**Note: This conversation will be hosted digitally, not in the real live world.**
Click HERE to tune into the conversation.
Join us for a cyber Q&A with District 2 Supervisor Catherine Stefani!
More about Catherine Stefani:
Supervisor Catherine Stefani is a neighborhood leader, public servant and activist who is a passionate advocate for the needs of District 2. For over a decade, Catherine has served our community both inside and out of City Hall. A resident of Cow Hollow for 17 years, Catherine is a familiar face who is deeply invested in our neighborhoods.
Her effective leadership on behalf of District 2 residents earned her the respect of the City Administrator and Mayor who in 2016 asked her to be San Francisco's County Clerk. There, she revamped the office to improve overall customer service, increased the availability of materials in multiple languages and remodeled the outdated ceremony room. Under Catherine's leadership, the County Clerk's office implemented major department efficiencies and increased the number of transactions by 27.5% and overall revenue by 5.7%.
Catherine began her career as a Deputy District Attorney in Contra Costa County, where she argued 25 jury trials. Catherine developed, hosted and produced "For the Record," a television show about legal issues. For her work, the East Bay Business Times named her to its "40 under 40" list of leaders. She also worked for San Jose Vice Mayor Cindy Chavez, the California Department of Justice, and Speaker Herb Wesson of the California State Assembly.
Catherine is an activist and volunteer. She is a leader and spokesperson for Moms Demand Action for Gun Sense in America, which aims to reform gun laws. She was on the board of directors of the Homeless Prenatal Program for six years and has raised over $50,000 to fight leukemia by competing in triathlons. Catherine is active in Emerge California, an organization that trains women in politics. She won an "Ignite Honors" award in 2016 for "consistently putting her beliefs into action, engaging and mentoring other women and transforming her community."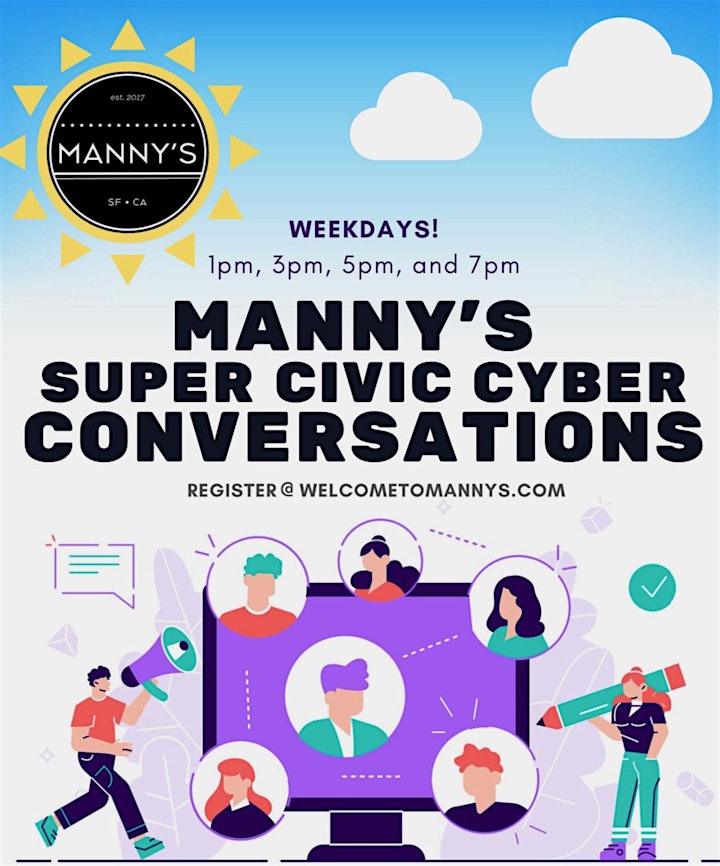 About Manny's Super Civic Cyber Conversations:

San Francisco and the surrounding 5 counties are in the midst of mandated shelter-in-place. All businesses except those deemed essential are closed and many Bay Area residents and scared, nervous, and wondering about the future.

Manny's, a civic gathering and events space located in the heart of San Francisco, is rising to the occasion to create and promote a month's worth of live civic conversations to distribute needed information, give people the hope, and continue to civically engage the public in a time of need.

About Manny's:

Manny's was opened on election night 2018 to create a physical place for people to go to become better informed and more involved citizens. Since opening we've hosted 17 of the Presidential candidates, over 550 civic events, talks, and gatherings, over 40 members of Congress including Speaker Nancy Pelosi, and leaders across different social justice movements like Alicia Garza, Jose Antonio Vargas, Michael Brune, Cleve Jones, and Gabby Giffords.

Venue Information:
Manny's
3092 16th Street
San Francisco, CA, 94103