Join us for Manny's Super Civic Cyber Conversations with Pete Buttigieg's California Director, Cecilia Cabello.
**Note: This conversation will be hosted digitally, not in the real live world.**
Click HERE (https://zoom.us/j/129315246) to tune in to the conversation.
What is it like to run two historic campaigns back to back? Well, let's ask Cecilia Cabello. Not only did she run California political operations for Hilary Clinton's 2016 run, but she also was Pete Buttigieg's California director.
Join us for a cyber conversation with Cecilia Cabello on what it was like to run Mayor Pete's California Operation.
More about Cecilia:
Cecilia Cabello is the Vice President of the Board of Public Works. She was appointed by Los Angeles Mayor Eric Garcetti in November 2018.
Cecilia served as Chief of Staff to Los Angeles City Controller Ron Galperin, an independently elected citywide official who serves as the City's chief auditor and accountant. Cecilia joined the Controller's Office from the Southwest Regional Council of Carpenters, where as Director of Government Relations she was responsible for the union's political and governmental relations in Los Angeles County. She was tapped as Hillary for America's California State Director during the 2016 general campaign and California Deputy Political Director for the 2016 primary campaign.
Cecilia was previously Mayor Garcetti's Director of Intergovernmental Relations where she oversaw the administration's relations at all levels of government and played key roles in advancing critical legislation and securing billions of dollars in infrastructure funding. She also served as Garcetti's Senior Legislative Deputy during his three terms on the Los Angeles City Council and long tenure as Council President.
Cecilia is a veteran public policy and political expert whose previous roles include Vice President at Mercury Public Affairs, Chief Political Advisor to the Consul General of Israel in Los Angeles, and Special Projects Manager for then-Congresswoman Hilda L. Solis.
Cecilia is a graduate of Columbia University in New York. A native Angeleno, she proudly serves on the boards of Latino Victory Fund and Equality California. She lives in the Echo Park neighborhood of Los Angeles with her husband and cat.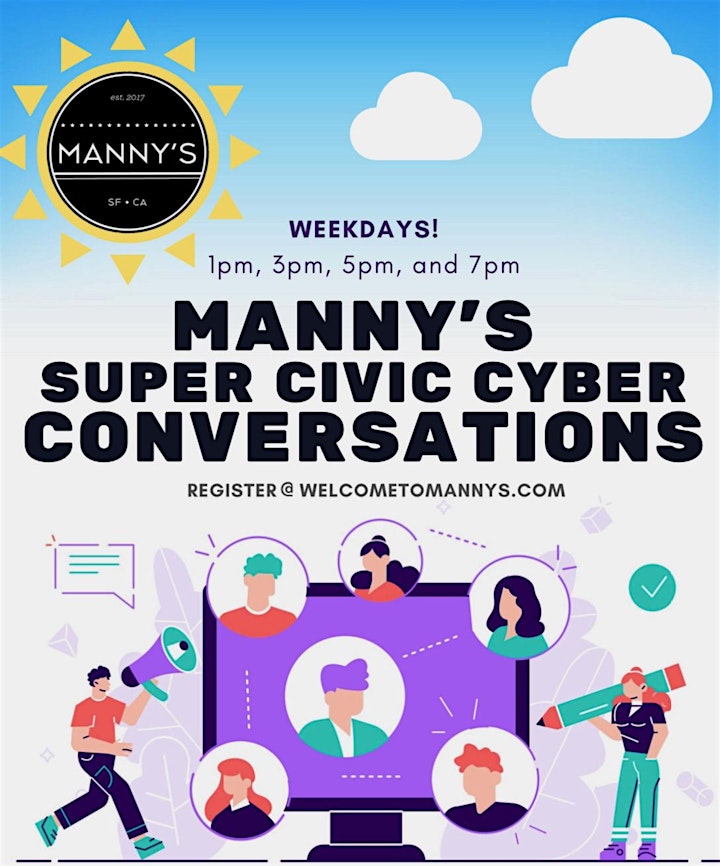 About Manny's Super Civic Cyber Conversations:

San Francisco and the surrounding 5 counties are in the midst of mandated shelter-in-place. All businesses except those deemed essential are closed and many Bay Area residents and scared, nervous, and wondering about the future.

Manny's, a civic gathering and events space located in the heart of San Francisco, is rising to the occasion to create and promote a month's worth of live civic conversations to distribute needed information, give people the hope, and continue to civically engage the public in a time of need.

About Manny's:

Manny's was opened on election night 2018 to create a physical place for people to go to become better informed and more involved citizens. Since opening we've hosted 17 of the Presidential candidates, over 550 civic events, talks, and gatherings, over 40 members of Congress including Speaker Nancy Pelosi, and leaders across different social justice movements like Alicia Garza, Jose Antonio Vargas, Michael Brune, Cleve Jones, and Gabby Giffords.

Venue Information:
Manny's
3092 16th Street
San Francisco, CA, 94103