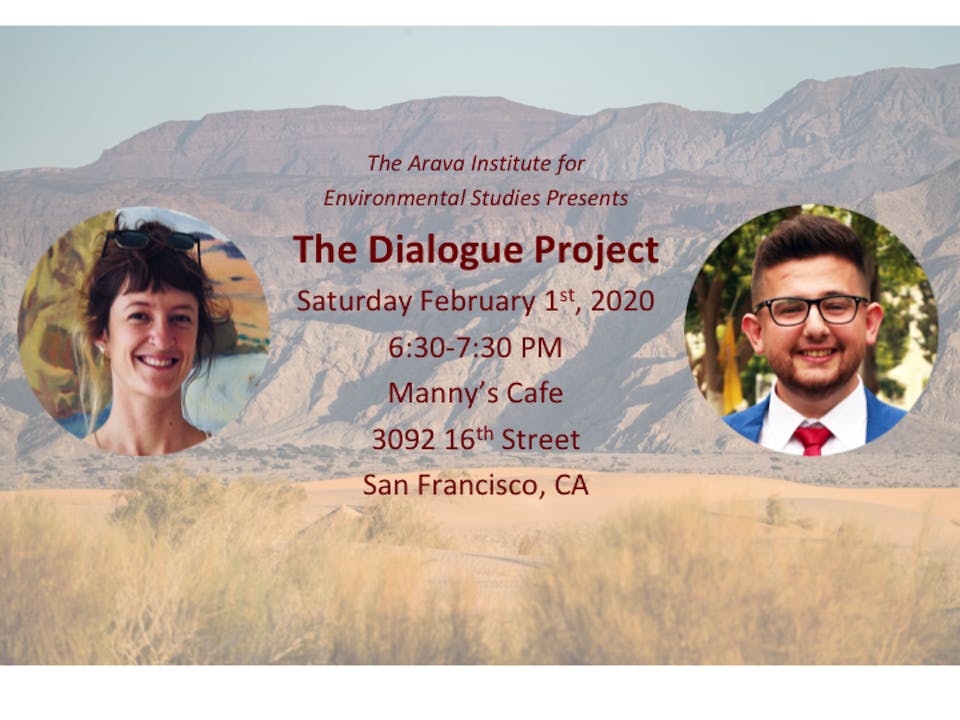 The Arava Institute presents: The Dialogue Project at Manny's!
The Arava Institute is an academic and research institution focused on environmental studies and cross-cultural collaboration. The Institute brings together Israelis, Palestinians, Americans, and students from around the world to study the sociopolitical impact of environmental issues in renewable energy, sustainable agriculture, water resource management, international policy and desert ecology.
Twice a year, the Arava Institute invites two Middle Eastern alumni, one Jewish-Israeli and one Palestinian, to present in communities across the United States on their experience with the Arava Institute's transboundary environmental initiatives. During their presentation, these alumni will reflect on the importance of international cooperation when it comes to solving issues related to climate change and environmental degradation.
Presenters:
Shira Fisch attended the Arava Institute as a student in the Spring 2019 semester and as a Program Associate during the Fall 2019 semester. She was born in California and raised in a small village in the Galilee. After her IDF service, she worked on sustainable farms, raising goats and harvesting organic vegetables, in Central and South America. Shira plans to pursue a bachelor's degree in Conflict Resolution and Cultural Anthropology. She has a great passion for music and is a professional DJ.
Mohammed Jarrad was born and raised in the West Bank. He attended the Arava Institute in the Spring of 2017 during the second year of his bachelor's degree in Sustainable Construction Engineering from Palestine Technical University. Outside of academia, Mohammed is a volunteer English tutor at a local orphanage. Moved by his passion for human rights, he founded a women's empowerment initiative called "Ladies First" and he coordinates the annual Freedom Marathon in his city. He enjoys cooking, hiking, and reading.
Venue Information:
Manny's
3092 16th Street
San Francisco, CA, 94103