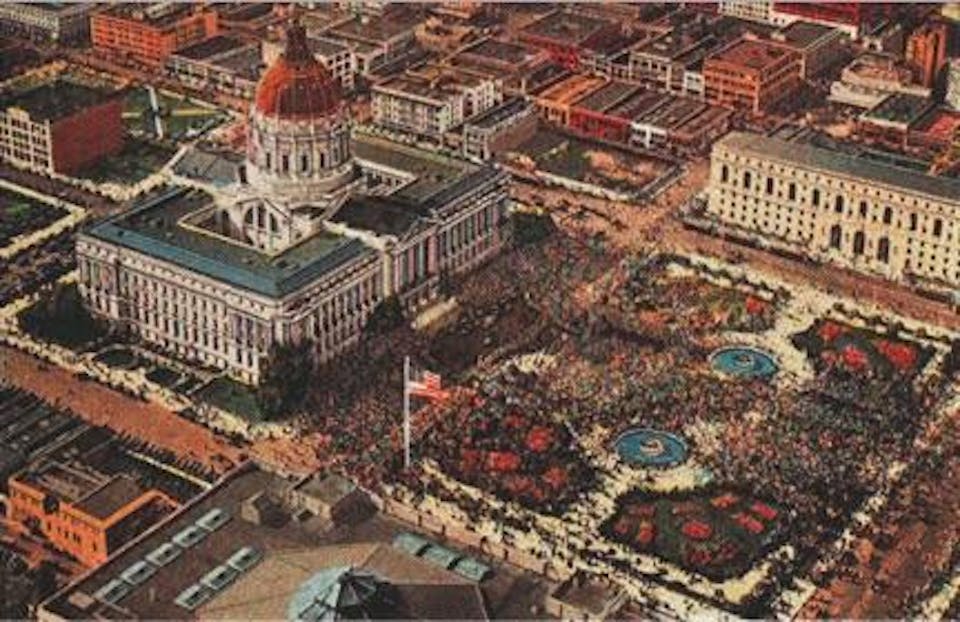 Join us for Manny's Super Civic Conversations! #MSCCC
**Note: This conversation will be hosted digitally, not in the real live world.**
Click HERE to tune in to the conversation.
San Francisco's Civic Center has a very rich history. The epicenter of monumental moments that have redefined U.S. history. But what was the Civic Center like during its early days? How did it come to be what it is now?
Join us for a cyber conversation with James Haas on the history of San Francisco's Civic Center.
More about James Haas:
James W. Haas has lived most of his life in the city. After graduating from Stanford University in 1964 with a degree in history, he served for two years as the assistant director of the National Head Start program in Washington, DC. Graduating from Columbia Law School in 1969, he practiced law in San Francisco for almost forty years relating to planning, real estate, historic preservation, and banking. President Jimmy Carter appointed him in 1978 to the federal Advisory Committee on Historic Preservation on which he served for five years. He was also engaged in civic projects including committees demolishing the Embarcadero Freeway and rewriting the City Charter, improving transportation, and developing the new South Beach neighborhood. His major effort for the past 35 years has been the restoration and completion of the Civic Center starting with the new main library in 1984. Mayor Gavin Newsom appointed him to the City Hall Preservation Advisory Commission. Now retired, he has written about San Francisco including a biography of the long-forgotten Mayor Edward Robeson Taylor which appeared in the San Francisco Museum and Historical Society's journal The Argonaut in 2007 and articles on the history of the Civic Center which appeared in The Argonaut in 2012, 2015, and 2016. His book The San Francisco Civic Center: A History of the Design, Controversies and the Realization of a City Beautiful Masterpiece was published last year by the University of Nevada Press.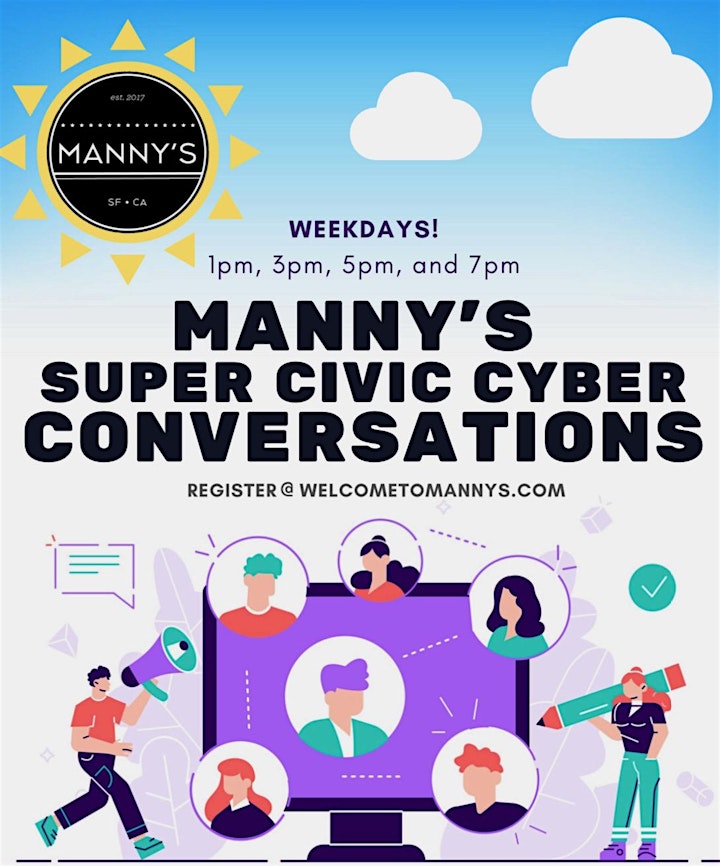 About Manny's Super Civic Cyber Conversations:

San Francisco and the surrounding 5 counties are in the midst of mandated shelter-in-place. All businesses except those deemed essential are closed and many Bay Area residents and scared, nervous, and wondering about the future.

Manny's, a civic gathering and events space located in the heart of San Francisco, is rising to the occasion to create and promote a month's worth of live civic conversations to distribute needed information, give people the hope, and continue to civically engage the public in a time of need.

About Manny's:

Manny's was opened on election night 2018 to create a physical place for people to go to become better informed and more involved citizens. Since opening we've hosted 17 of the Presidential candidates, over 550 civic events, talks, and gatherings, over 40 members of Congress including Speaker Nancy Pelosi, and leaders across different social justice movements like Alicia Garza, Jose Antonio Vargas, Michael Brune, Cleve Jones, and Gabby Giffords.

Venue Information:
Manny's
3092 16th Street
San Francisco, CA, 94103