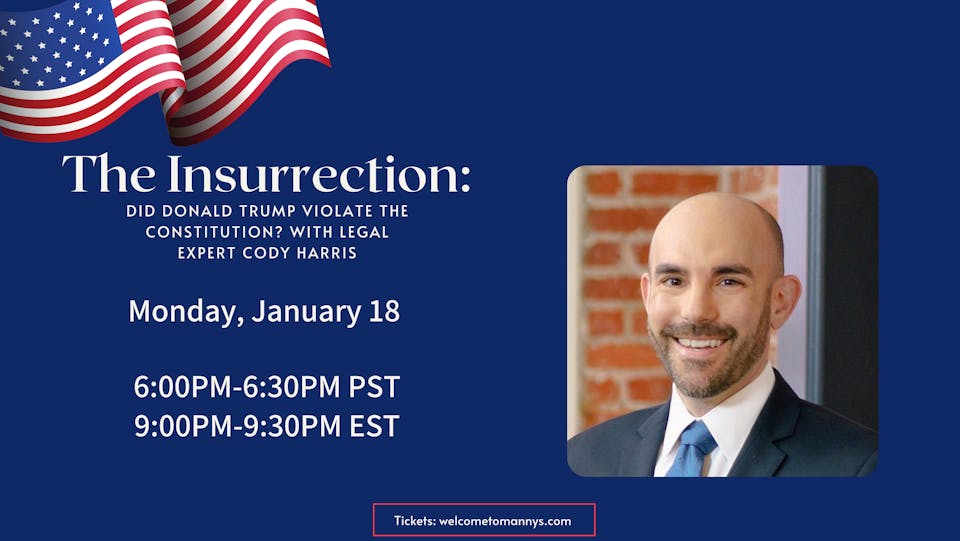 The Insurrection: Did Trump Violate the Constitution? w/Cody Harris
$0.00 - $10.00
Sales Ended
On January 6th 2021, Trump incited an insurrection at the Capitol that changed the country forever.
In response to the insurrection that took place at the Capitol last week, Manny's is organizing a series of quick fire talks to provide necessary information to the public during this critical time in our nation's history.
Did Donald Trump violate the Constitution last week in his speech and following actions and words? How does the Constitution frame sedition by a sitting president? What will be the legal hurdles that will be needed to be cleared to show that the President violated the Constitution.?
More about Cody Harris:
Cody is a partner at Keker Van Nest & Peters LLP, a litigation boutique in San Francisco, where his practice focuses on white collar, securities, appellate, and business litigation. In 2017, Cody helped successfully enjoin Donald Trump's unconstitutional attempt to withhold federal funding from so-called sanctuary jurisdictions. Cody also teaches constitutional law through Stanford's Continuing Studies Program, and has written and spoken about impeachment and other constitutional controversies arising out of the Trump Administration. Prior to attending law school, Mr. Harris served as a communications director for a senior member of Congress.
*If the cost is at all a hurdle please just email jupiter@welcometomannys.com with the word "Grapefruit" and she will send you a free ticket no questions asked!
Venue Information: