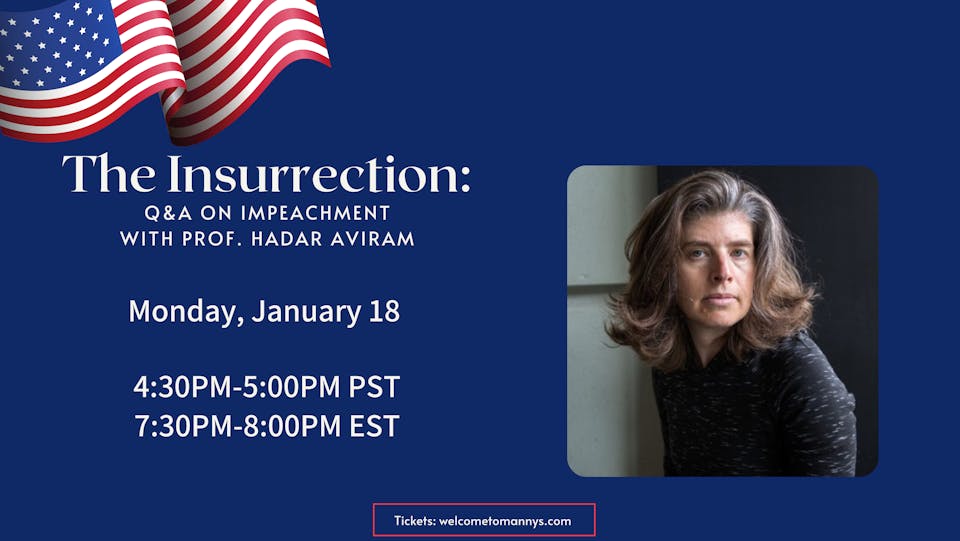 The Insurrection: Q&A on Impeachment w/ Law Prof. Hadar Aviram
$0.00 - $10.00
Sales Ended
On January 6th 2021, Trump incited an insurrection at the Capitol that changed the country forever.
In response to the insurrection that took place at the Capitol last week, Manny's is organizing a series of quick fire talks to provide necessary information to the public during this critical time in our nation's history.
On Wednesday, Trump became the first president in US history to be impeached twice. What comes next? What kind of precedent has this set? How would it work if the trial happens after he leaves office? How would impeachment prevent him from running again? All of these questions and more with Law Professor Hadar Aviram!
More about Dr. Hadar Aviram:
Professor Hadar Aviram specializes in criminal justice, civil rights, law and politics, and social movements, and her research employs socio-legal perspectives and methodologies. Prof. Aviram is a frequent media commentator on politics, immigration, criminal justice policy, civil rights, and the Trump Administration. Her blog, hadaraviram.com, covers criminal justice policy in California.
*If the cost is at all a hurdle please just email jupiter@welcometomannys.com with the word "Grapefruit" and she will send you a free ticket no questions asked!
Venue Information: