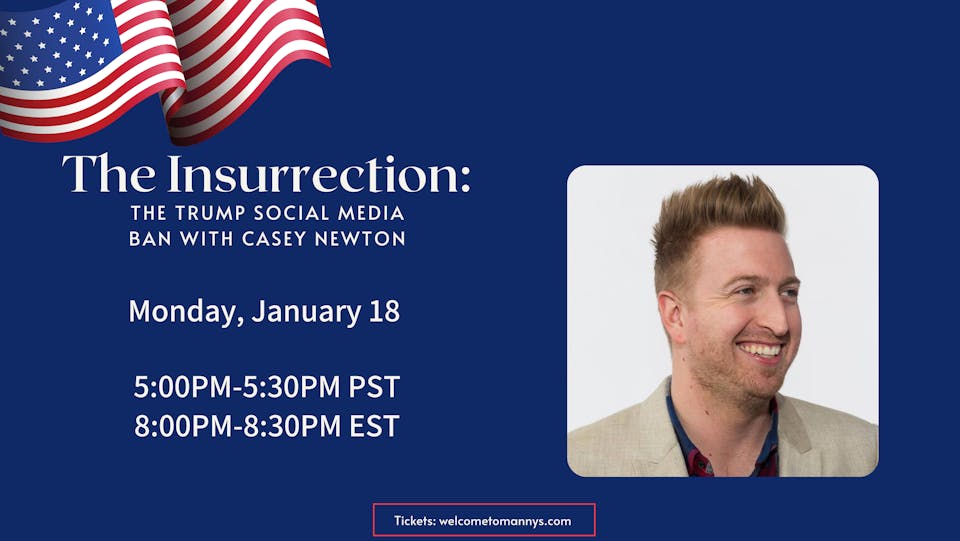 The Insurrection: The Trump Social Media Ban w/ Casey Newton
$0.00 - $10.00
Sales Ended
On January 6th 2021, Trump incited an insurrection at the Capitol that changed the country forever.
In response to the insurrection that took place at the Capitol last week, Manny's is organizing a series of quick fire talks to provide necessary information to the public during this critical time in our nation's history.
Did social media enable Trump to incite violence at the Capitol? Could violence have be prevented by banning Trump sooner? How are social media platforms standing up to disinformation? What does the ban on Donald Trump mean? Why was no the moment it happened and what does it say about the future of social media and the far right in America?
All this and more with tech reporter and writer Casey Newton!
More about Casey Newton:
Casey runs a prominent newsletter called Platformer which explores the intersection of social media and democracy. He was previously the Silicon Valley editor at The Verge.
*If the cost is at all a hurdle please just email jupiter@welcometomannys.com with the word "Grapefruit" and she will send you a free ticket no questions asked!
Venue Information: